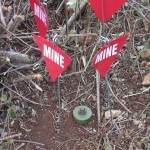 DOK-ING Demining Ltd. is a privately owned limited liability company, the owner UXOR group d.o.o., established under the laws and regulations of the Republic of Croatia.Its principal place of business and main office is in Zagreb, Croatia.
DOK-ING Ltd., Mother Company, the owner mr.Vjekoslav Majetić, was founded in the late 1991 and registered for the production of robots and equipment for special purposes. With the establishment of the humanitarian mine action capacity in the Republic of Croatia in 1996 DOK-ING Ltd. was among the first commercial companies to start developing human and mechanical capacities for providing services of humanitarian mine and unexploded ordnance clearance in Croatia.
In 1996 DOK-ING Ltd. started the initial research and development of the first mechanical assets used for mine and UXO clearance. During that period DOK-ING Demining Ltd. existed as a division of DOK-ING Ltd. with its own management, equipment and deminers.
Following the increase in the production and demining activities in 2004 DOK-ING Demining Ltd. left the Mother Company and became a separate legal entity. Today they are the largest companies in the region in the fields of demining machines production and humanitarian demining.
Since 2011. The company is owned UXOR group doo, privately owned, with an expanded list of new activities and set goals to expand the scope of its operations in Croatia and the EU.